Following Sauna Times build plans, the ideal sauna ceiling height is 7 feet. Sometimes 7 feet, 6 inches. Any shorter and you won't get proper Löyly (steam).
I got a $5,900 tiny house for only $500 and when it came time to start framing I realized a 3 issues with the framing:
1. Studs placed 24″ on center, not 16″
That might not be a big deal for a shed but for a building rolling down the highway at 60 MPH it could get sketchy. I cut every stud, moving them from 24 to 16 apart.
2. Changing room windows too far inwards
The tiny house came with windows but they were framed in the wrong spot. I need them to be in the center of my 4.5 foot changing room and they're installed 5 feet in. As I moved the studs from 24″ to 16″ I also moved the window in, which wasn't a huge deal.
3. My walls are too short
The biggest problem? My walls are only 80.5″ (6′ 8.5″) tall. For interior height, subtract 1/2″ for the concrete floor and 3/4″ for the ceiling and this would've put me at 6′ 7.25″, or 4.75″ too short from the 7′ minimum. Lots of mobile saunas have low ceilings but for this build I'm looking to go as authentic as possible.
Technically I actually have more headspace than 80.5″ given the original tiny house design framed the ceiling as follows. At the high point, it's almost 8 feet tall. But this is actually too tall and would create a 2-foot wide space up so high that only extremely tall people could enjoy it.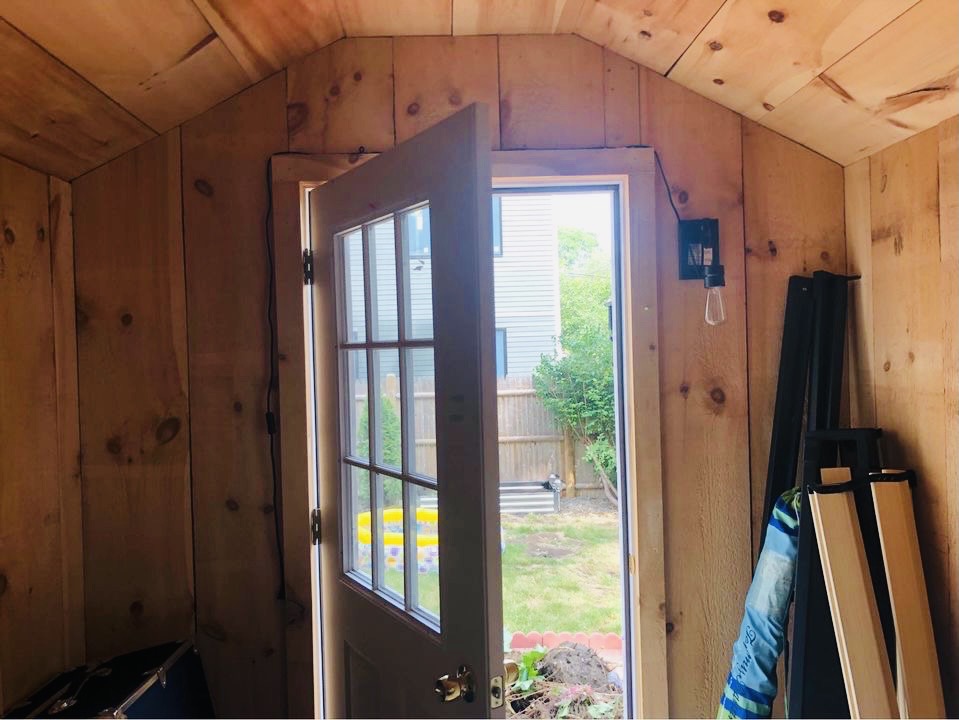 I'll be expanding my wall height to accommodate 2×6 ceiling joists installed parallel with the floor (like a drop ceiling); there will be an attic/void above this ceiling on the sauna side. On the changing room side, I'll keep the lofted feel which will be even more pronounced with the extra wall height.
I found this helpful video on how to increase an existing wall's height and stopped to pick up a bunch of Simpson Strong Ties. The work went a bit quicker thanks to a mitre saw my brother-in-law Joe gave me. I managed to finish both long walls in about 3.5 hours for the total cost of around $70.
Luckily, I'll still be under the maximum legal height of 13′ 6″ including the stove (in most places; in some it's 14 feet) provided I got all my math right.