It's odd to me that saunas haven't really become mainstream in Boston and the rest of New England. Our winters are pretty similar to Finland. If you've tried an authentic sauna you know how much of a godsend it can be in the dead of a cold winter. I guess New Englanders are just more into hot tub life?
In the early 1900s, there were a few communities where large populations of Finnish immigrants lived in Boston. In Quincy, there were once several saunas and now there's only one; and I'm not sure is even operating. My uncle is in his early 80s and remembers going to a sauna up in Gloucester/Lanesville at Cape Ann in the 50s and 60s. I'm pretty sure it's gone, although the Cape Anne Finns are still going strong.
Here's a list of saunas you can visit or rent in the Boston and New England area.
Know another sauna in the Boston area?
This is a living post I'll keep updated. If you know of any others, please leave a comment!
Public saunas
The oldest operating authentic sauna in New England is right on the edge of a lake in Pembroke. For tradition, the men's and women's sides are separated. Nudity is optional, although these days it seems like 99% of people wear a suit while at the sauna. It's reasonably priced and open on Saturdays. Since the pandemic, this sauna has been closed and continues to be closed due to construction, I believe related to the septic system.
I love this place and hope it opens up again soon!
Not exactly in Boston but a good excuse for a weekend trip to Portland, Maine. This sauna is relatively new and mysterious with no photos online anywhere. I've heard it's pretty great and hope to try it soon.
Private rentals
I haven't tried this sauna yet but my friend Matt swears by it, visiting about once a week during the winter. It looks like they offer private , 1-hour bookings at $40 for 1 person, $30 per person for 2+ people and $25 per person for 3 or more people. I can't speak to the quality of the sauna but I'll try it soon and update this post.
What I loved about this sauna was its character and unique approach. It's situated on the second floor of a building built in 1930. Within a few decades, the owner Seppo Pakkala's father emigrated from Finland and built this sauna. The sauna maintains all of its original wood work and hardware. There's a hallway upstairs lined with several small doors and inside each door is a small changing room. Sauna is reasonable, something like $25 per hour per person. After changing, you then go through two more tiny doors and into a private shower room. Then through a 3rd tiny door and into your private sauna. There's an incredible amount of character and something about all the tiny doors.
The saunas themselves are powered by team using radiators! Copper pipe goes parallel, above the radiator in your sauna, hooked up to a valve. When turned, water is sprayed out and downward onto the radiator which produces a TON of steam, hence the name. These saunas operate on extremely high humidity and lower temperatures in comparison to a wood-fired sauna. I usually have it around 130 degrees about 60% humidity, whereas a wood-fired sauna I'll be at 180 and 20% humidity.
This place is one of the last remaining of many public saunas in the Quincy area, operated by the owner Seppo. It has been closed due to the pandemic and remains closed, with no website or email in operation and the phone number going to a "this line has been disconnected" message.
I booked this sauna for my brother and his crew for a session just before a bachelor party weekend. It was all you'd expect from an authentic wood-fired sauna and then some, situated in a peaceful woods with a stream passing by. The best part was probably the cold plunge experience: There's a stream that goes right past the sauna and several different places to plunge along the stream. Highly recommended!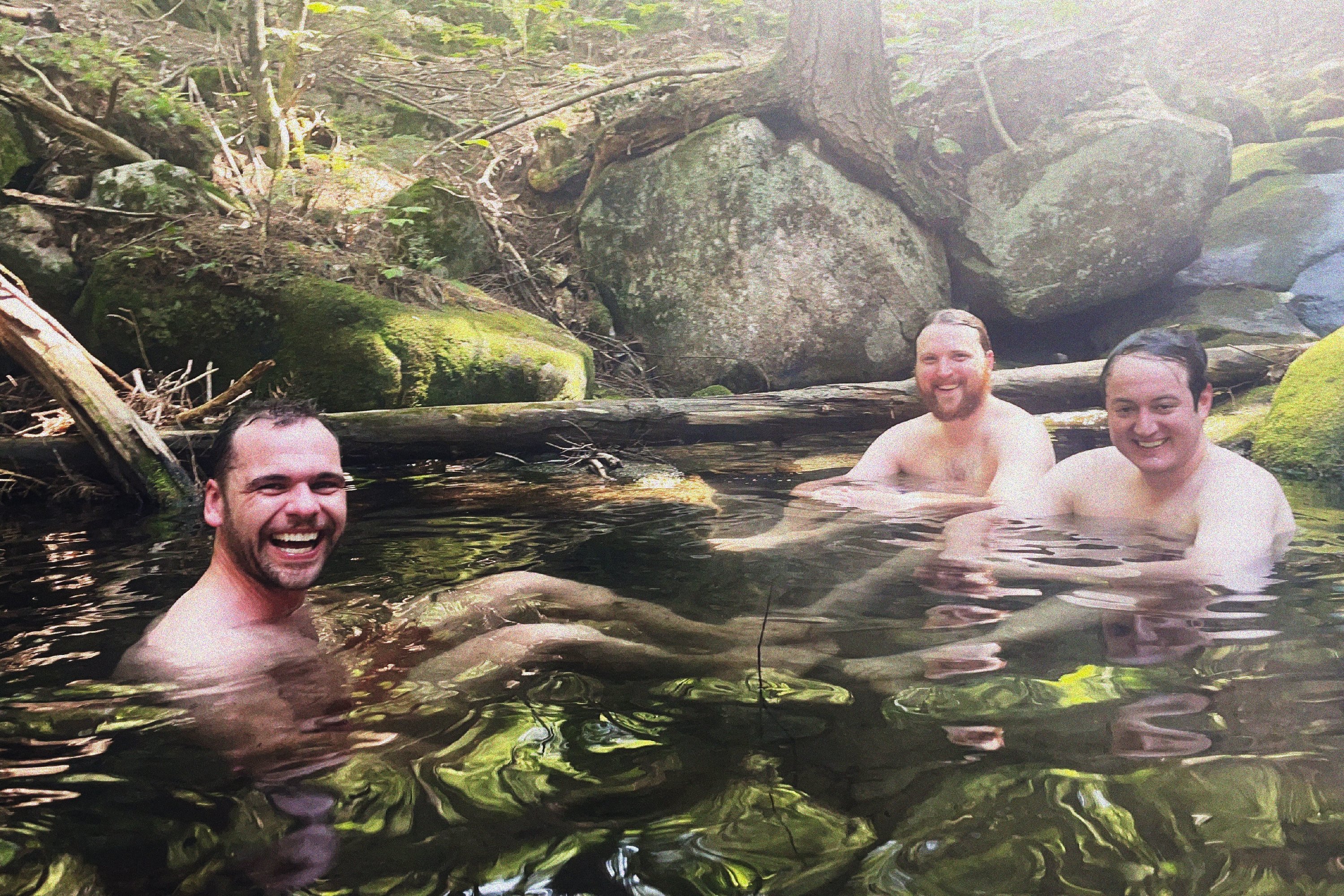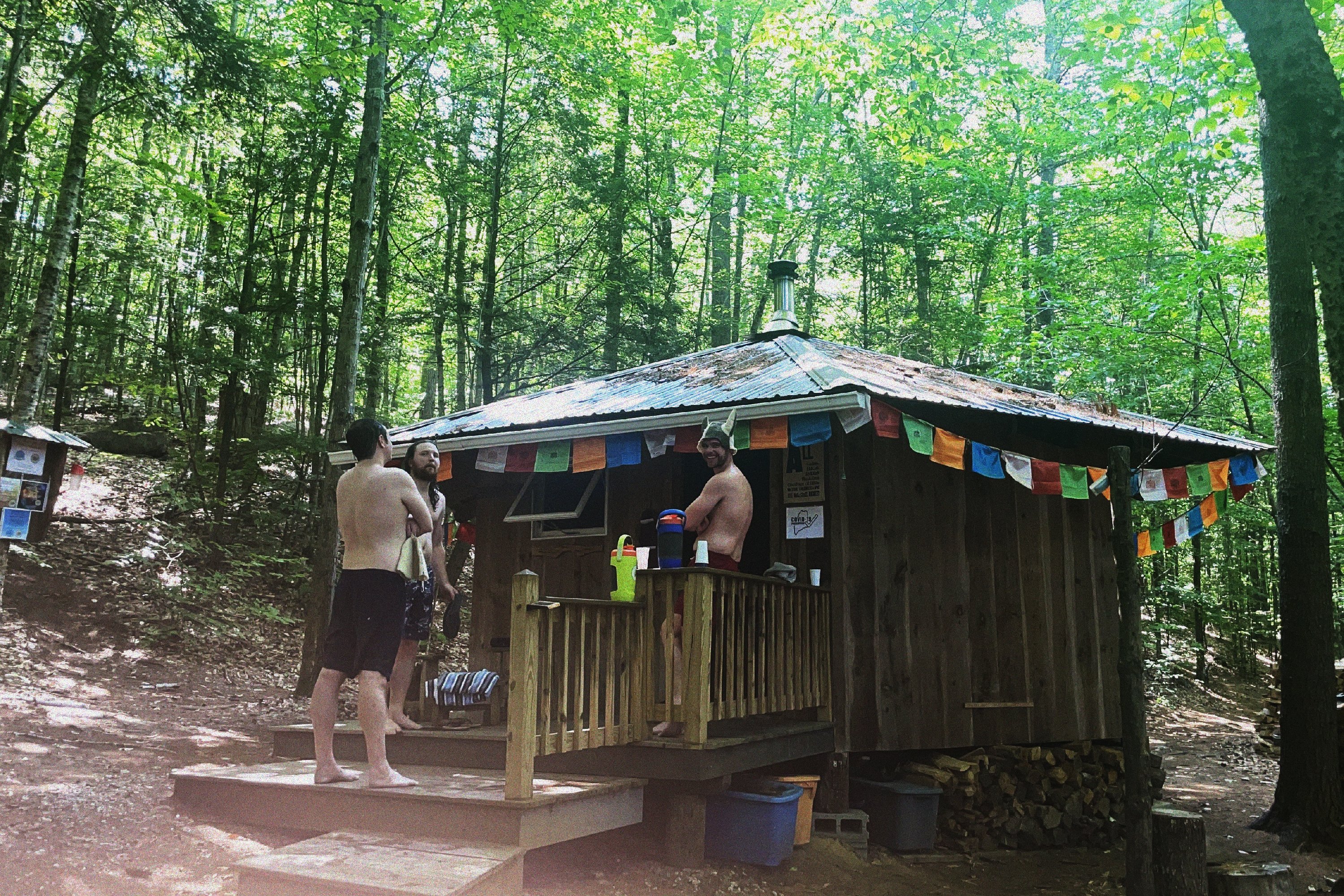 In January 2020, I booked this Airbnb for a couple of nights, specifically to try the sauna. Cathy and Todd were delightful hosts. I even brought my dog Yoda!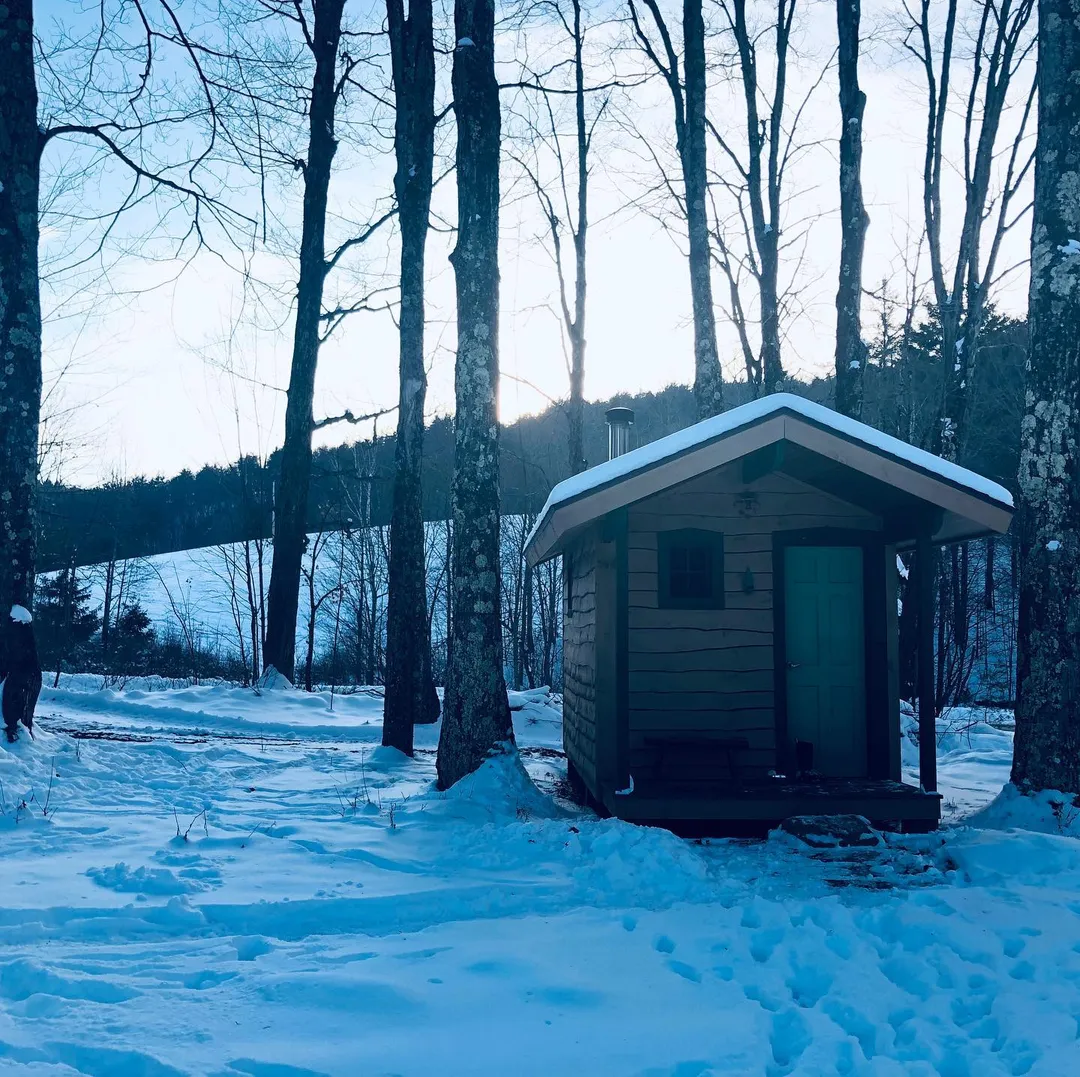 This sauna is super authentic and a nearly perfect build for a backyard, free-standing wood-fired sauna. It was built by a professional carpenter. If you've read the Sauna Times book, this sauna seems to follow those plans pretty closely. At one point I had the sauna up to about 190. Inspirational!
Alex and his wife Colleen built an incredible A-frame, off-grid cabin on their beautiful property in Maine, about an hour and a half north of Boston. I've stayed here four times so far and loved every trip. In fact, it's at this sauna that my wife and I decided to finally build our own!
The sauna at the property is a small, 2-person barrel sauna. I'm not a huge fan of barrel saunas but they're far better than infrared saunas (which are basically fake saunas) and if you don't have the time to build your own they're a pretty good option. Barrel saunas can be tricky to get to the right temperature, especially with a stove where wood is loaded from the outside as most of the head comes off the front of the stove. Still, I've been able to get this sauna to 200 or more by bringing enough fully-dried wood. The closest Market Basket sells reasonably-priced bundles of wood that fit this stove. I'd recommend buying 4-5 bundles per day you anticipate being at the A-Frame.