With all of the public saunas closed during the pandemic, my wife and I decided to build our own. Then we decided to make it mobile. I bought a trailer for $500 and put nearly $2,000 into it, blowing over half of the budget. After buying a stove for $799 I knew I'd have to get creative with less than $1,000 left in the budget.
In June, I managed to get a $5,900 tiny house kit (over $12,000 assembled) for only $500 but there was a catch: It had to be completely disassembled one board at a time out of the city of Cambridge, MA in the middle of a heat wave.
As the pandemic roared, I heard about the lumber shortage but I hadn't been paying close attention. As I finished rebuilding my trailer I turned my focus to materials. It turns out standard 2″x4″x8′ studs I previously priced out at just over $2 before the pandemic were now over $8 each at big box stores and well over $10 at local lumber yards. At this rate the framing alone will eat up the $1,000 and I'd still have all of the other expenses: Insulation, siding, roofing, windows, paneling to line the sauna room, bench material; and more I'm sure. The only way to get this done on budget is to invest more of my time and figure out how to get materials for free or cheap. I turned to Facebook and Craigslist, where I've seen people giving away free sheds over the years; so long as you can move it.
Over a few weeks I found several sheds but things weren't lining up. Like this 8×12 gable shed for $400 in great condition but 80 miles away and $1,500 to have delivered. At this rate I might as well buy a new shed.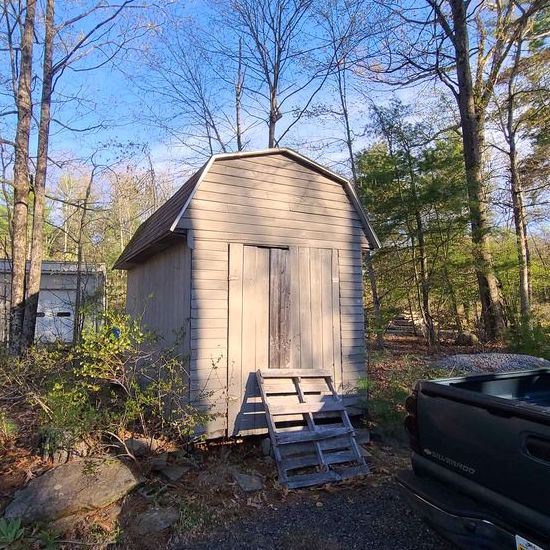 There were several other awesome sheds a bit closer but it seemed like every time I messaged the seller they'd already sold.
In desperation I went to look at this old beast. To the average person it looks horrible. The metal siding is all rusty, there's no floor and the roof has caved in. But in the photos I saw potentially solid, dimensional 2x4s and went to give it a look.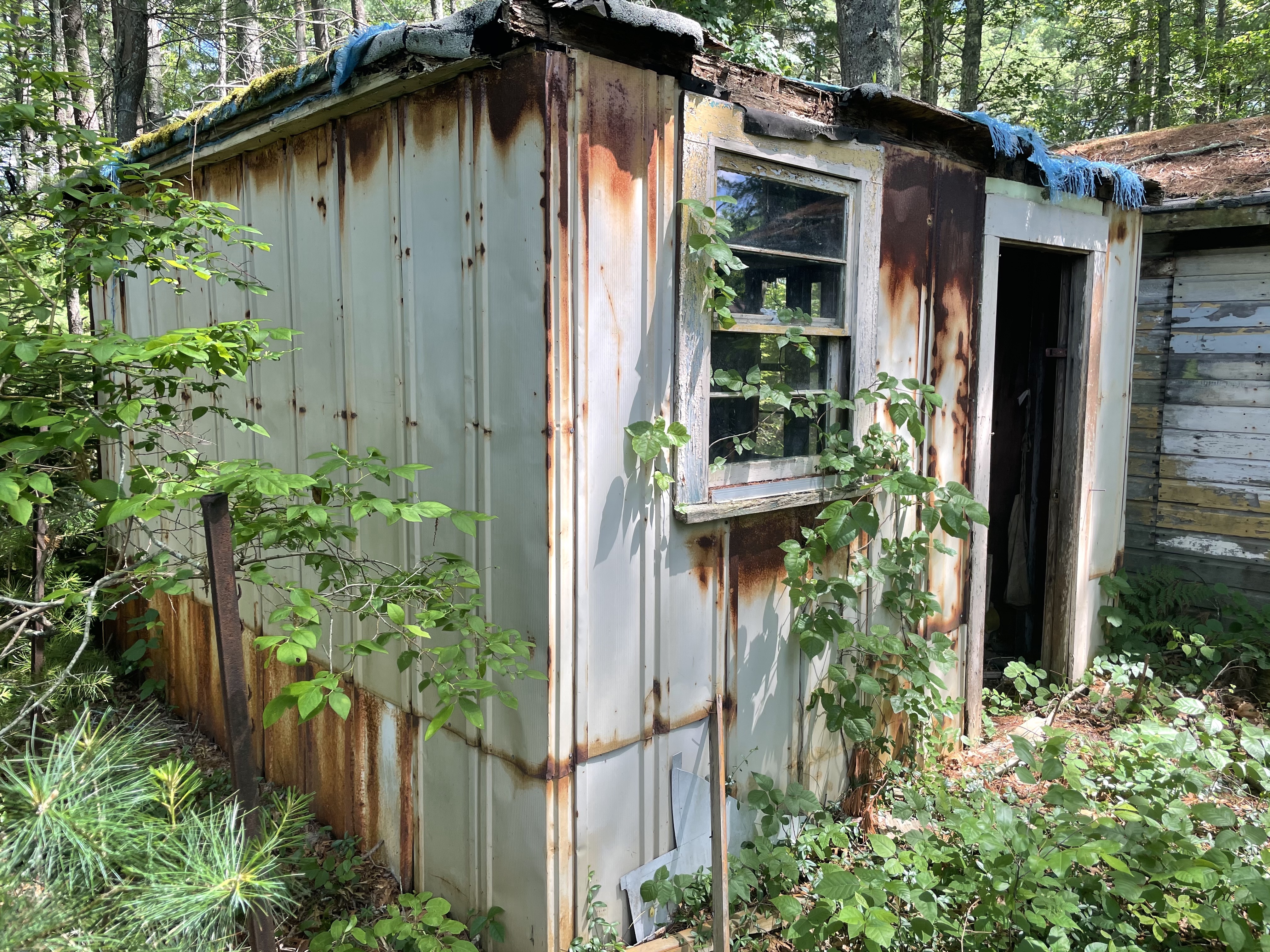 It turned out the lumber actually was well over 100 years old (this is a plus). The building was one of three sheds on the property created from a disassembled garage in Quincy, Massachusetts, probably built in the early to mid 1800s. In all there was about $1,200 of solid framing and shiplap inside the shed. Granted, you have to take it apart. I almost pulled the trigger but things weren't lining up with the owner's schedule.
A few days later on a Sunday morning a Facebook post popped up (about 55 minutes from me) with this shed for free in Cambridge, MA. The catch? The buyer has to disassemble it and move it out one board at at time. It may have been worth it to hire a flat bed tow truck but this route was impossible: There's no access out of the back yard with only a narrow alleyway that won't fit a truck.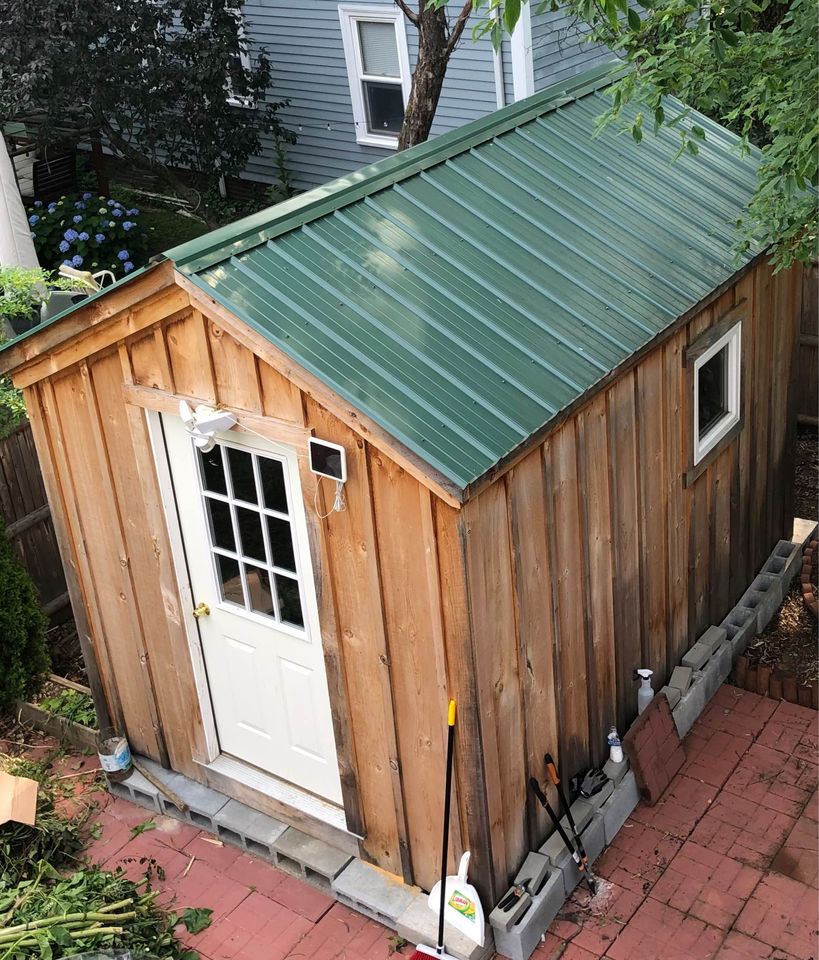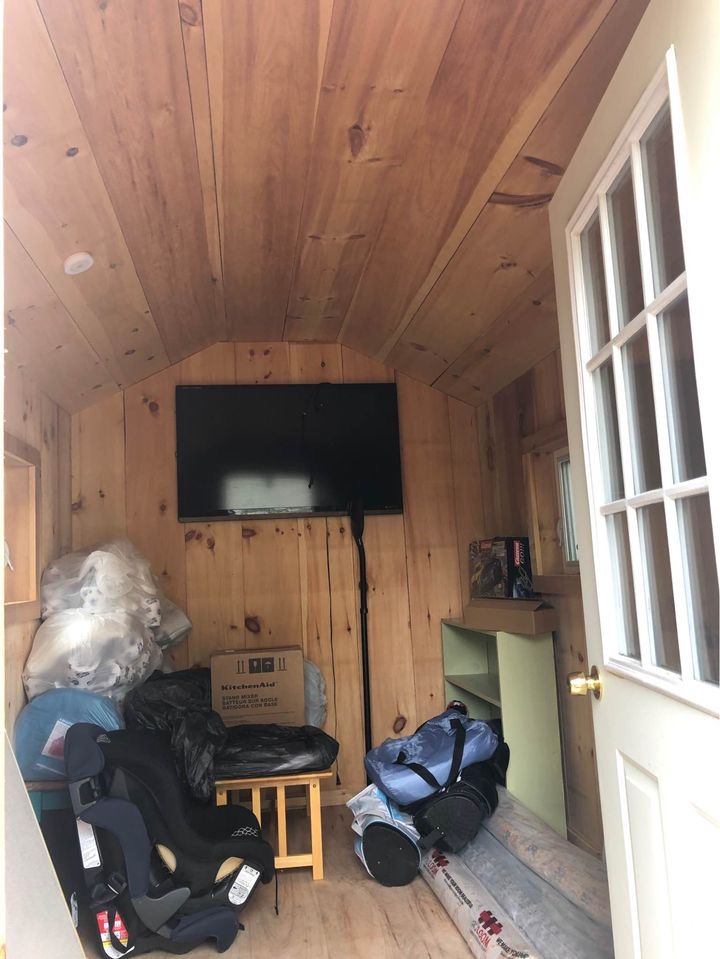 Of all the used sheds I'd seen posted this one was easily the nicest. It was also less than 3 years old. I sent a message to the owner before heading out on a bike ride, not expecting to hear back. It looked too good to be true.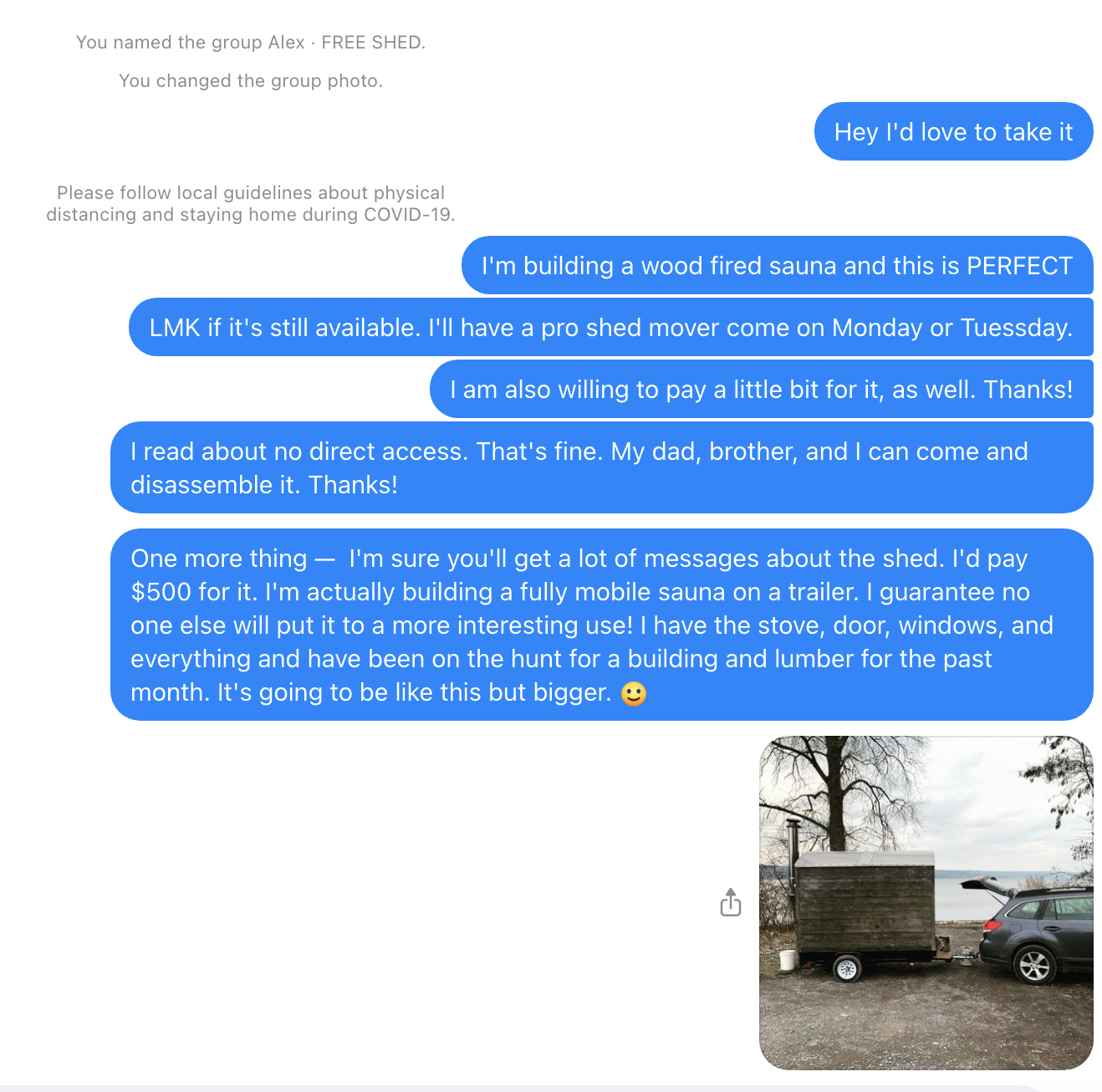 By the time my ride was over I forgot about the shed and to my surprise I got this text!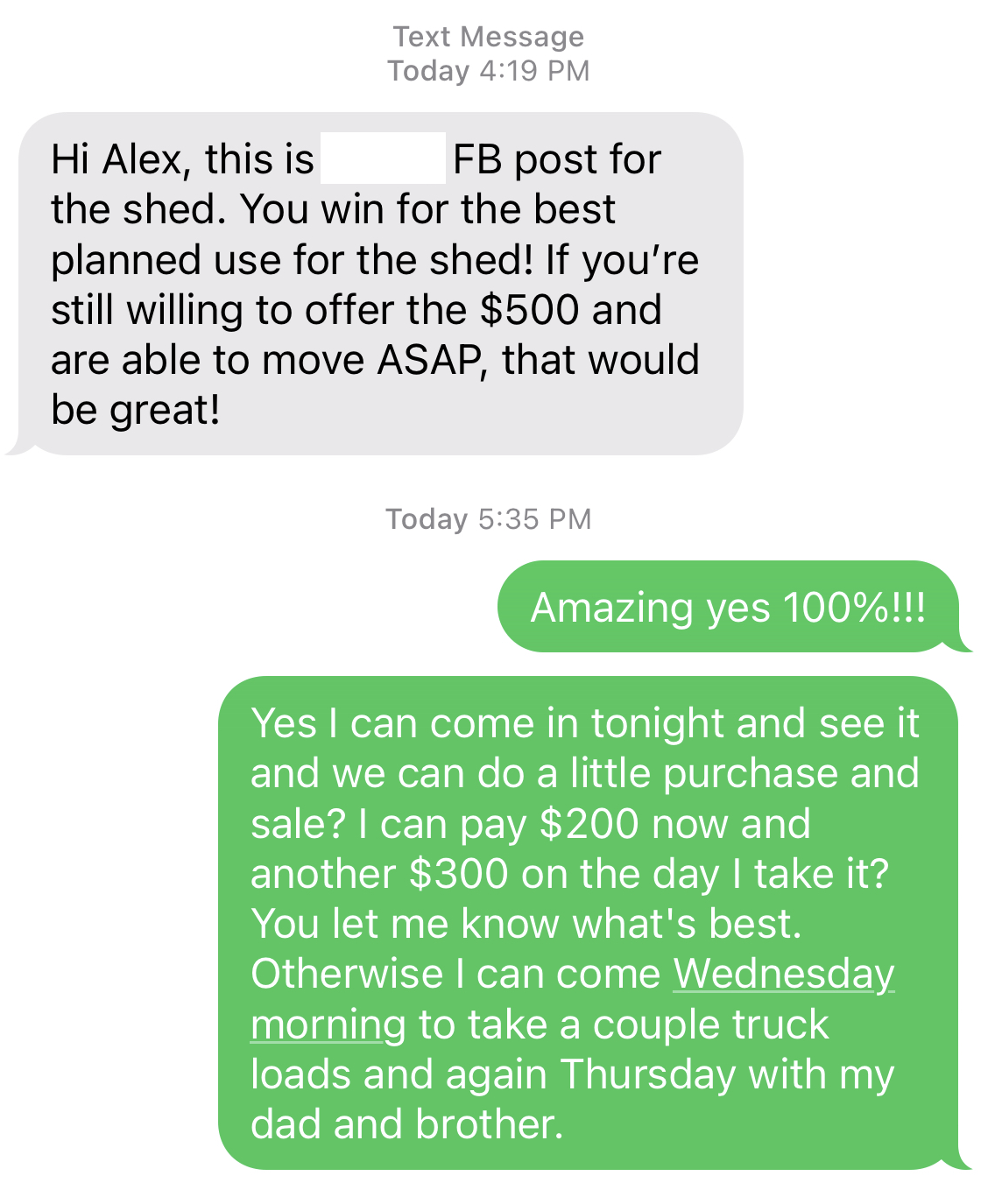 My brother and I agreed to meet and look at the shed together in the city. I was possessed by my quest to build this sauna. By the time he showed up 15 minutes late I'd already signed a purchase and sale and handed the owners a $200 deposit. I knew I was probably underestimating the disassembly by 5X, but at least I was mentally prepared for a slog?
Board by board, with the help of my brothers and my dad we removed the last sections of the shed 12 days later. I went into the city 7 times, spending 5 full days (5-6 hours) at the property. After renting two box trucks and sponsoring lunches, I invested about $850.
On the first day I pulled back a couple interior boards to discover the entire building was insulated.
We always seemed to get lucky with parking, thanks to the homeowners who met me us out front every day with a guest parking pass.
I didn't keep a detailed log of my time but I'd estimate I put about 60 hours into the disassembly. My brothers and dad probably put in another 60 hours of their own for a total of 120 hours. Given this kit is $5,900 delivered this works out to about $50 per hour.
The building aside — In the grand scheme, is it worth my time to build a mobile sauna verse just buying one? Probably not. But over the years I've noticed hairy hands-on projects like these builds mental muscles for tackling other hard problems like startups which are often comparably chaotic. Plus, my wife has this project on a strict budget.