When designing the floor for my mobile sauna I had a few musts:
It should withstand decades of abuse on harsh New England winter roads.
The changing/resting room should keep feet warm.
When rolling down the highway, the floor and building should stay on the trailer.
In the future, if we decide we want to put the sauna in a fixed location, the entire thing should easily come off the trailer. (With a machine.)
At the height of the lumber shortage I made a run for some pressure treated lumber. I knew it would be high but was still surprised this load was just over $700.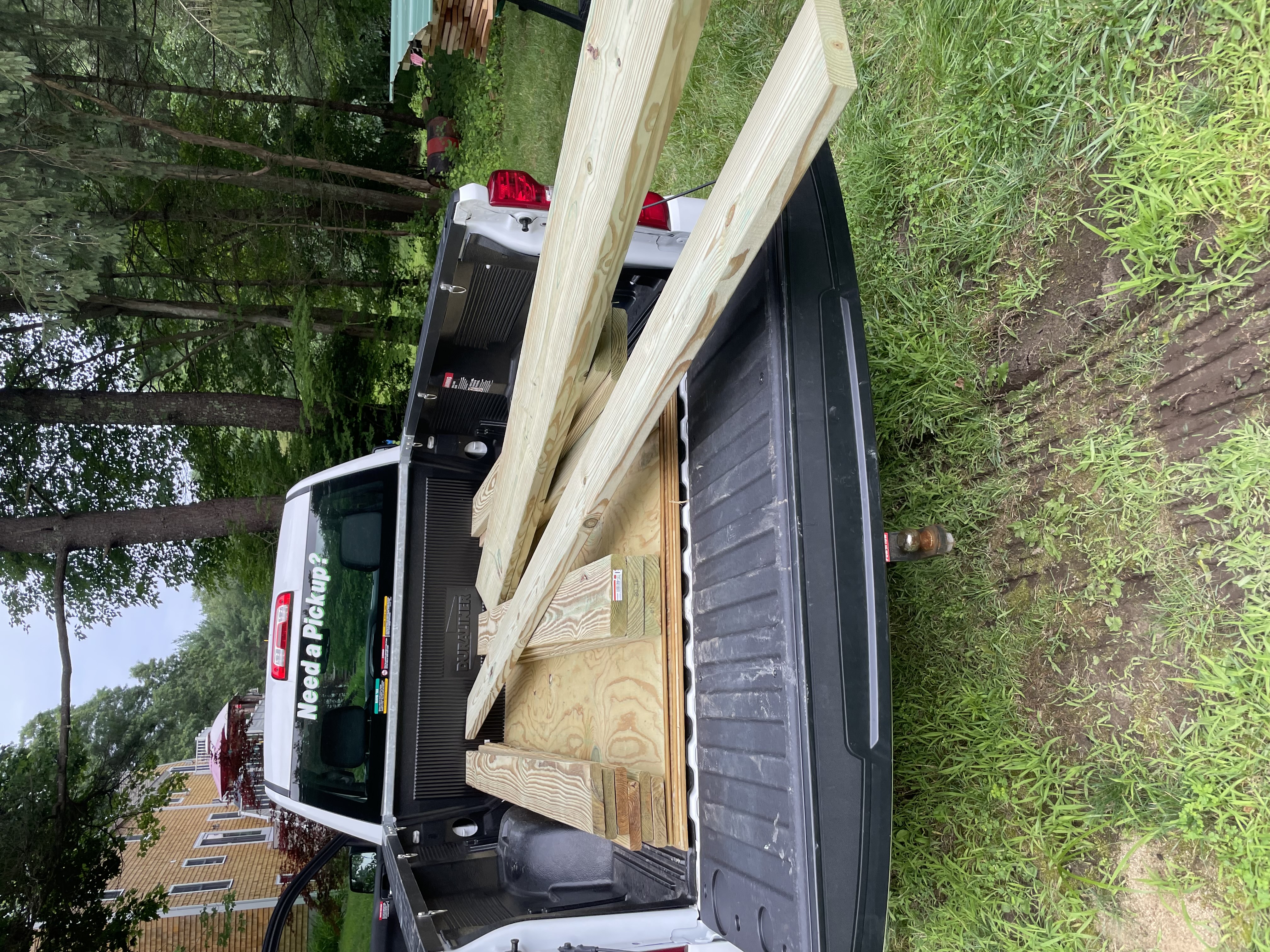 My trailer is home made and for whatever reason it has these 6 poles sticking up. I think it was made for a boat.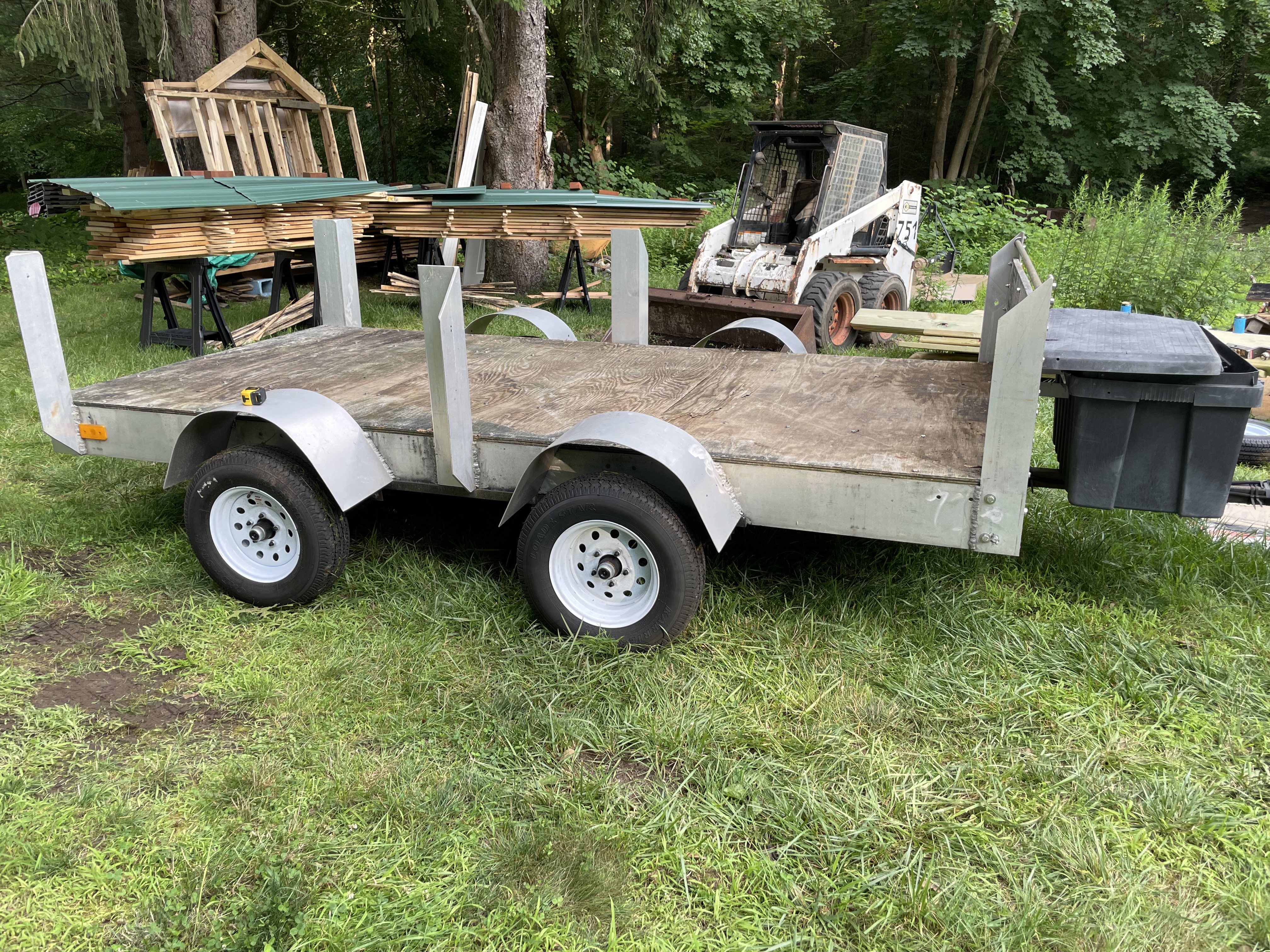 I got started by cutting off 4 of the poles which I knew I wouldn't use, keeping 2 just in case . Then I built the beginnings of the frame on the ground and hoisted it up.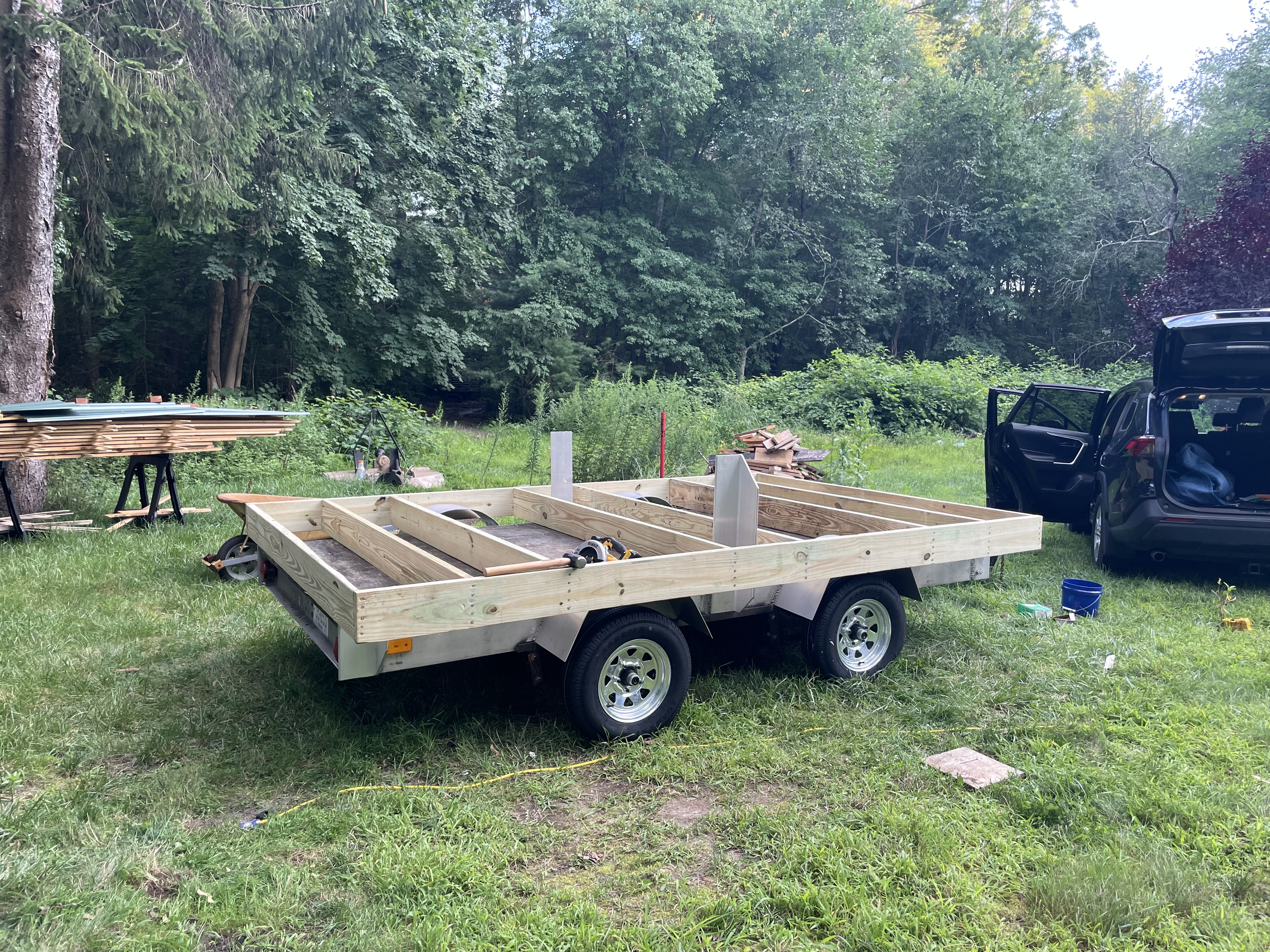 I ended up cutting the last 2 poles off, put 8″ beams every 16″ and framed around the fenders.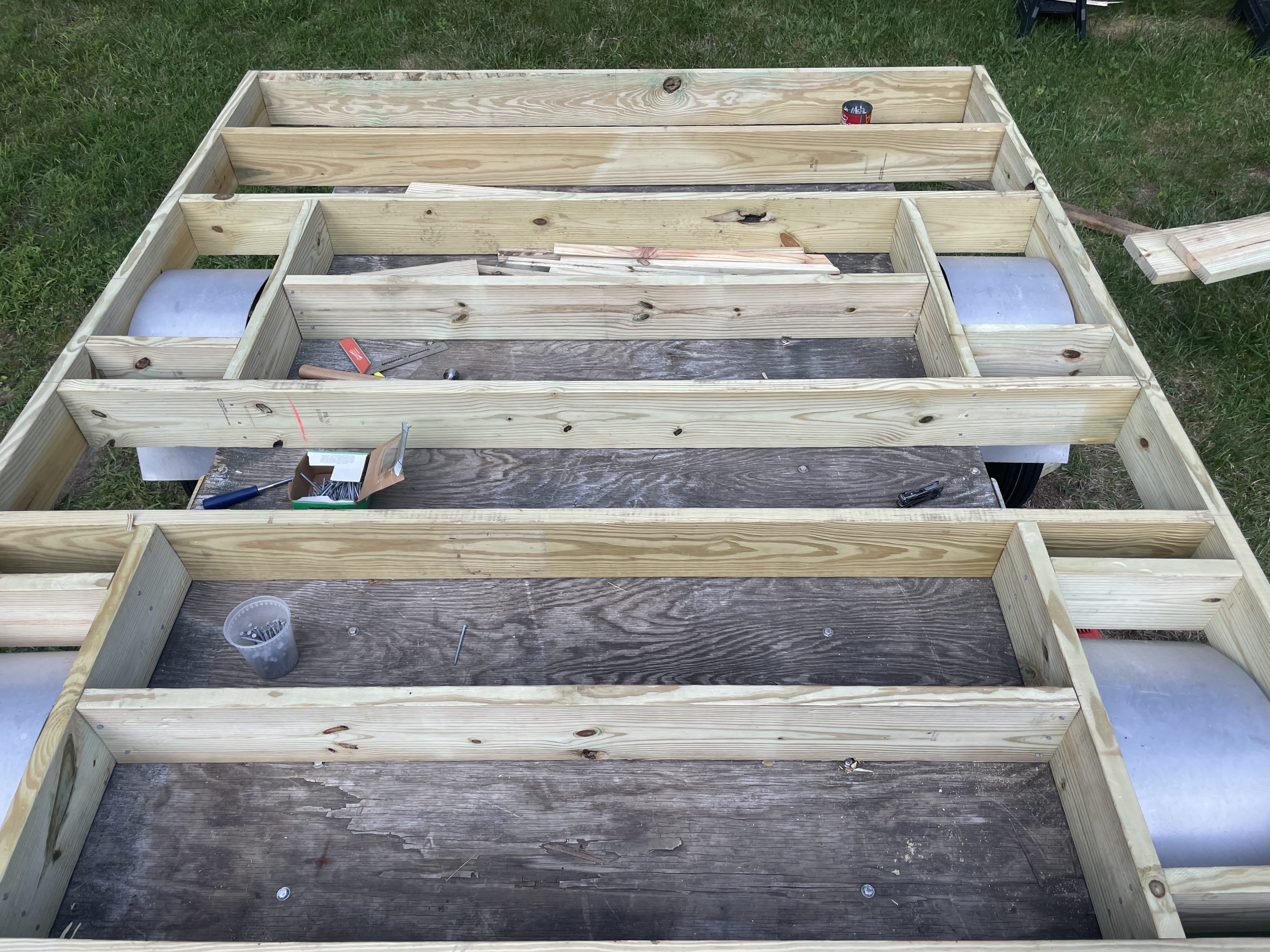 I added some blocking for added strength. I installed joist hangers on every spot I could fit them and a few corner brackets.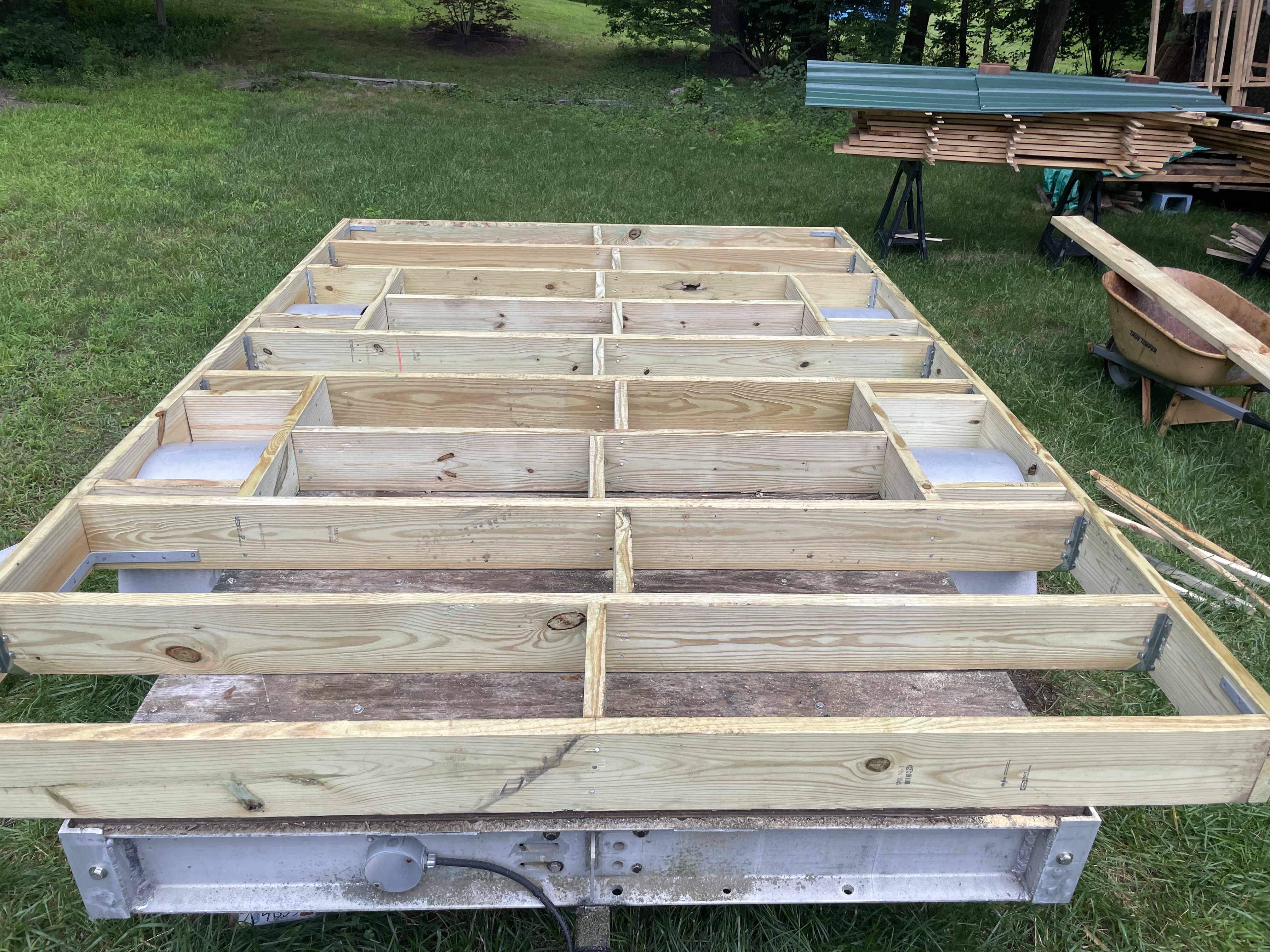 Sourcing long enough carriage bolts was a bit of a pain at first. I needed them to be at least 9″ long and be galvanized to hold up to road salt. I managed to find all I needed from Bolt Depot for under $30. (I have no affiliation with these guys; just a big fan.)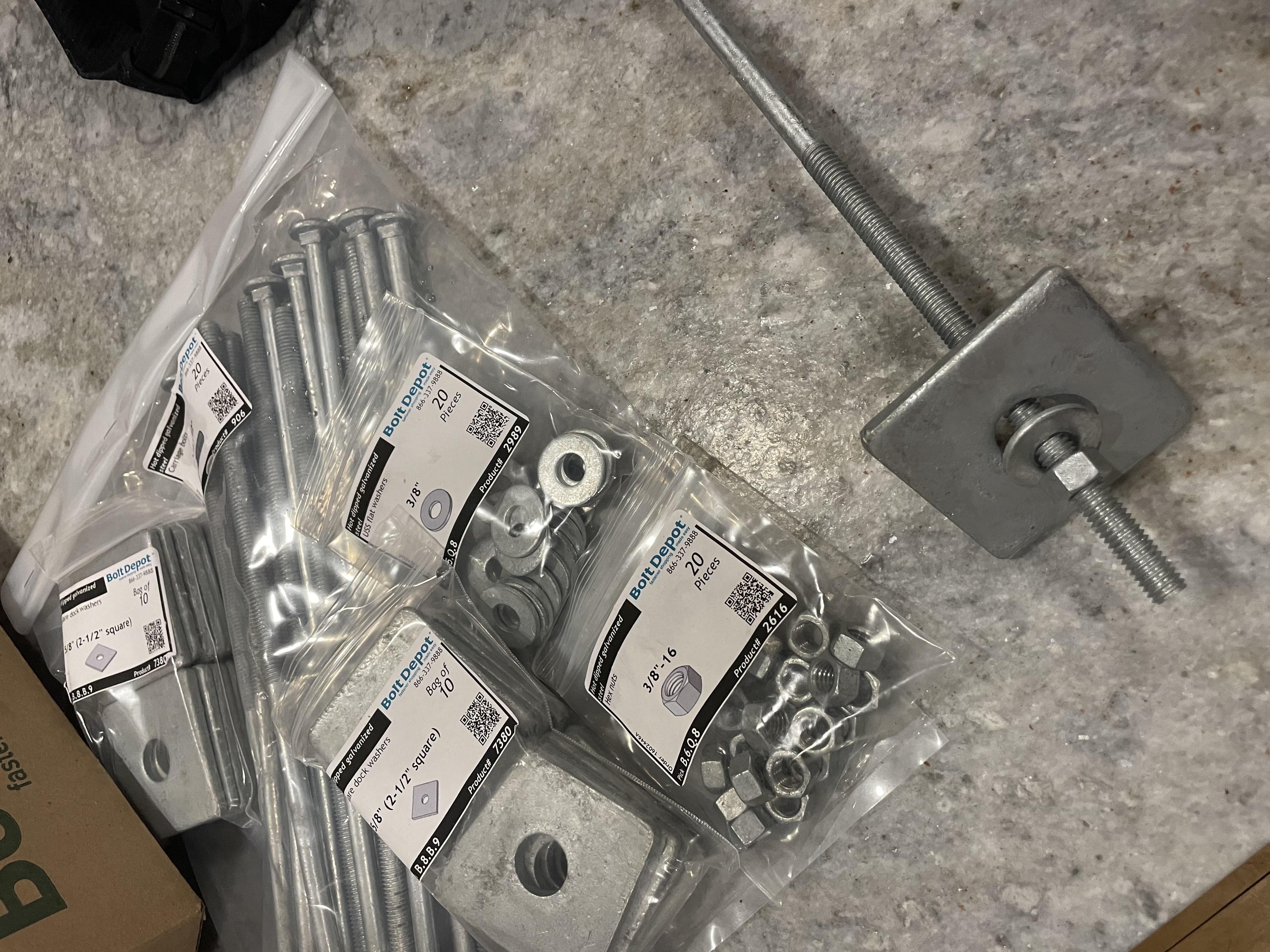 My trailer already happened to have bolts holding down the plywood deck, all of which go into the I-Beam underneath and I followed their line. Using a long 3/8″ bit I drilled down through the center of the beams until I hit the deck.
The bit wasn't strong enough to get through aluminum so I jacked the deck up high enough to fit my drill and a titanium 3/8″ bit.
The huge, 2″ square washers I bought wouldn't fit. But the smaller, round washers I bought seem plenty strong.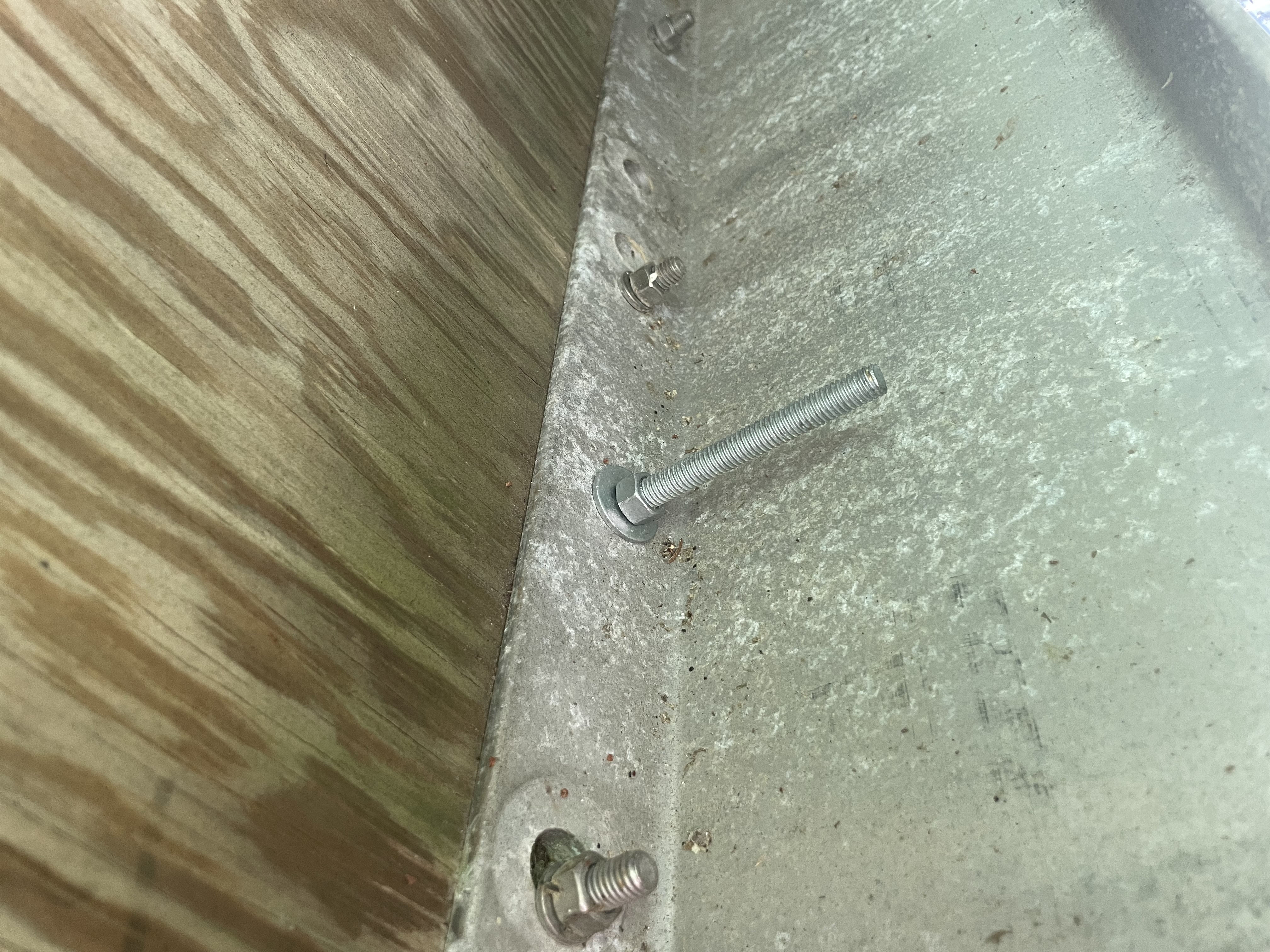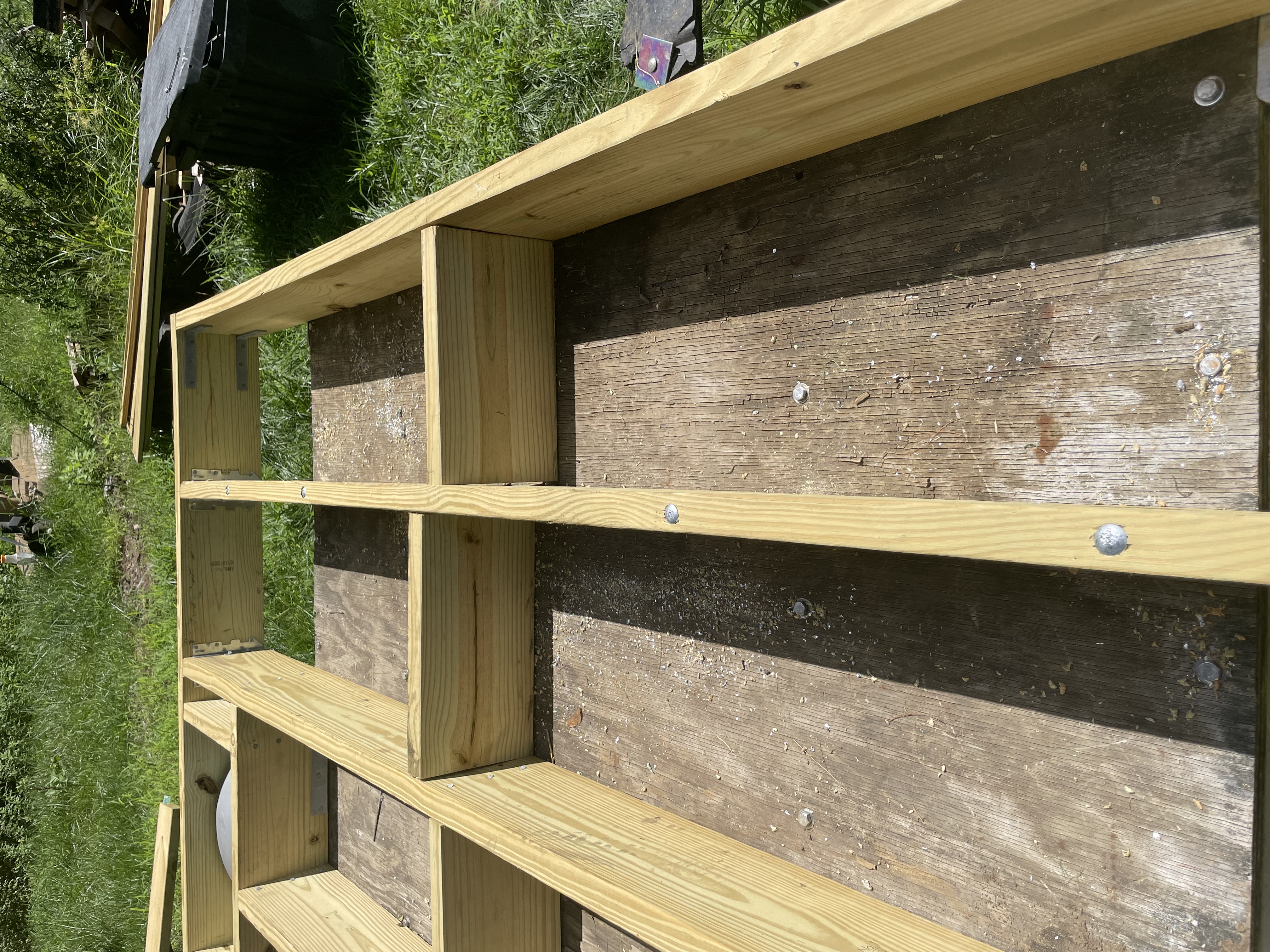 Even though the trailer already has a pressure-treated deck, there's a chance I may remove the sauna from the trailer in the future. Now's the time to add a barrier between the future ground and the floor insulation. Plus, I would've had to do this for the 1 foot overhang (building is 8 feet wide, trailer deck is 6 feet) anyways and decided to just do it all.
I picked up 2″ foam board insulation (R10) off Facebook marketplace for about 60% off retail. I got all the material I needed for the deck for about $75 delivered. It had some concrete sludge on it but I don't care.
With the foam being 2″ and the beams 8″ that leaves a 6″ gap. The solution I decided on was PT sticks along the insides of each beam, followed by a 1/4″ sheet of PT plywood, followed by a 3/4″ plywood subfloor on top of the entire thing.
I started with several 1″x4″x8′ boards which my father-in-law ripped on his table saw into roughly 1″ sticks. I tacked them in with a brad nailer 2.25″ down.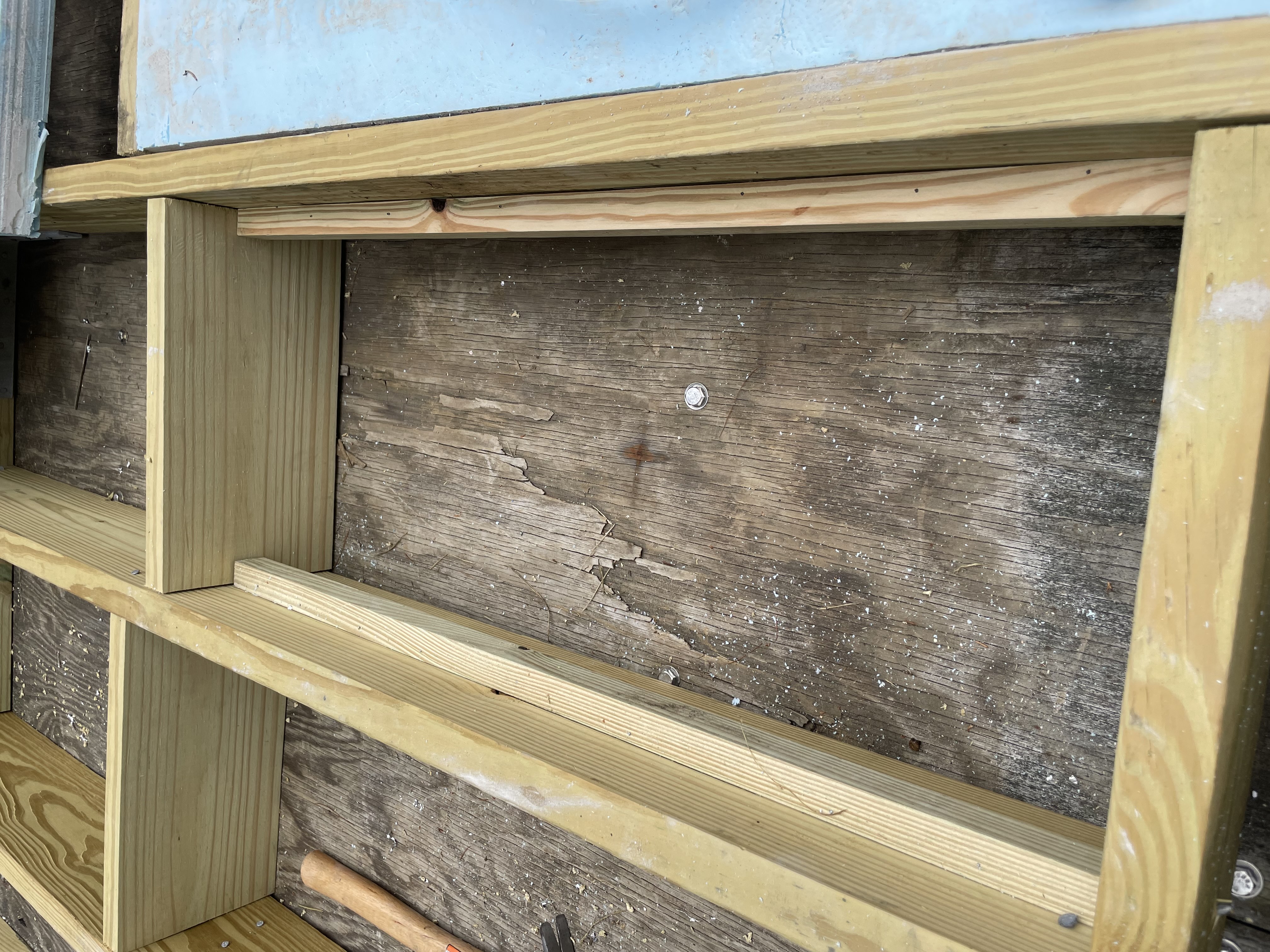 On top of the 1″ sticks went 1/4″ PT plywood.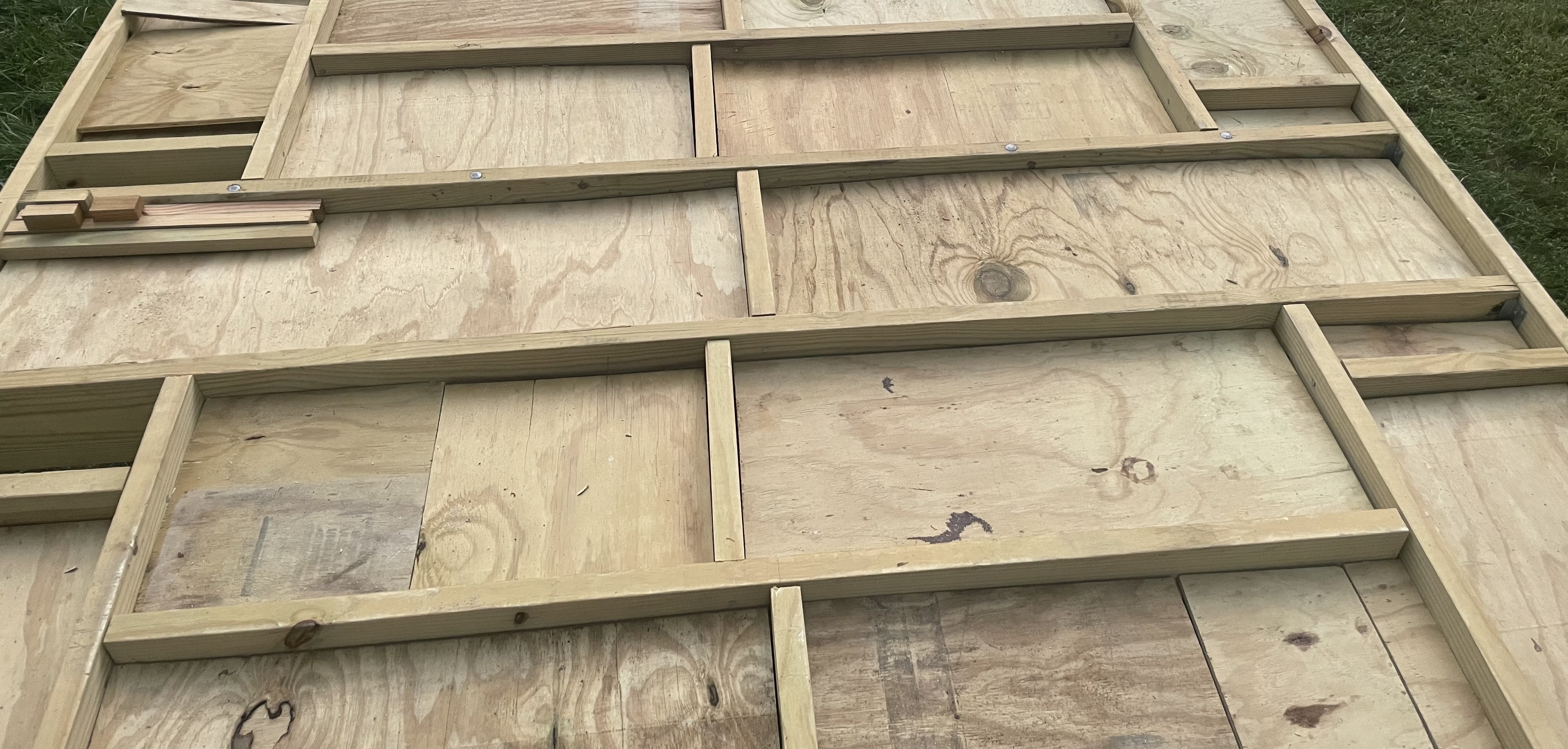 And on top of the plywood went the 2″ foam insulation which I cut using a circular saw, wearing a mask and safety goggles. Above the wheel wheel wells was a little tighter so I picked up a sheet of 1″ foam. I also filled many smaller areas I couldn't frame out with spray-can foam insulation, wearing latex gloves.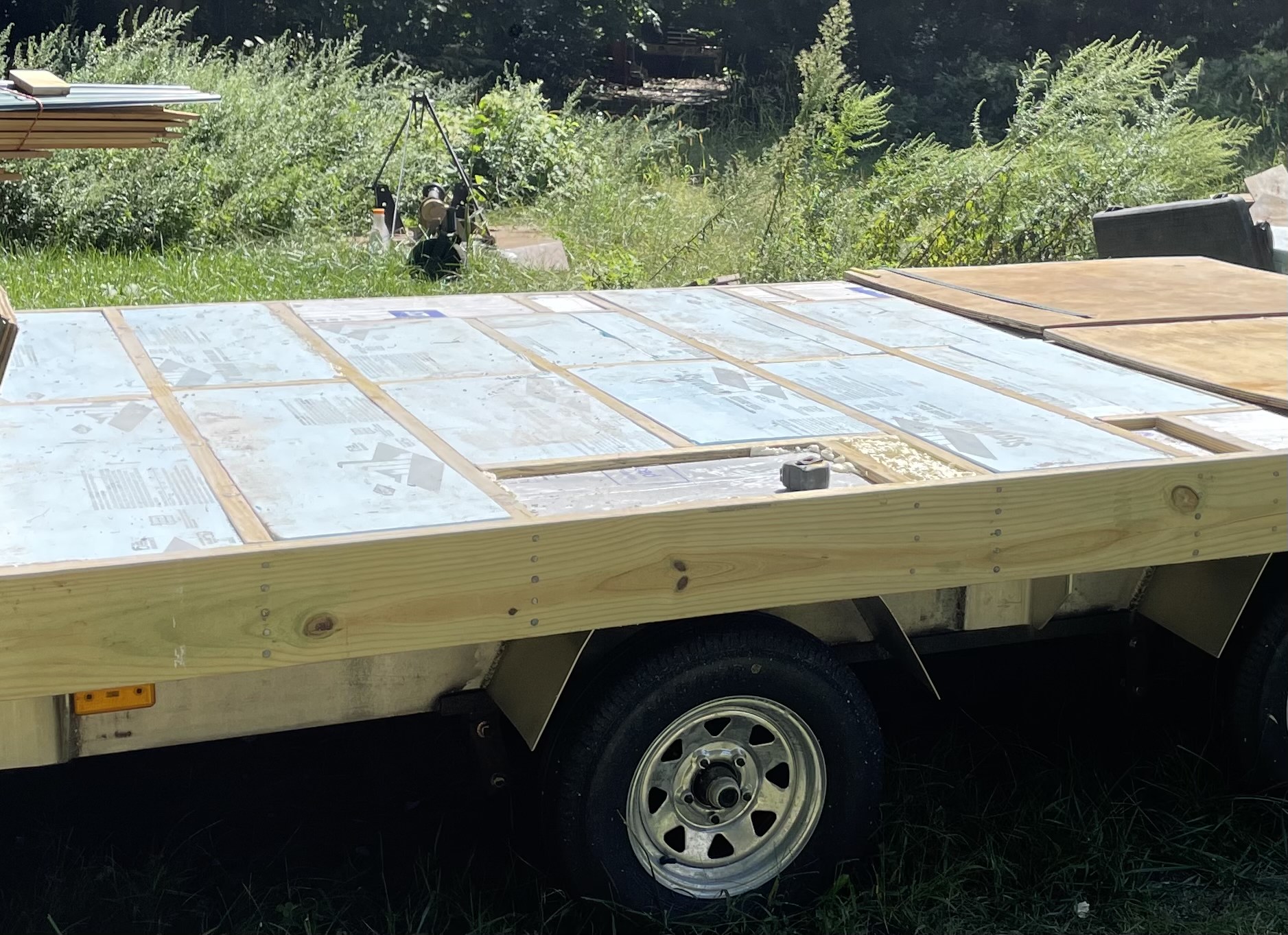 As I tacked on a few sheets of 3/4″ plywood subfloor, my dog Yoda hopped up. He approves.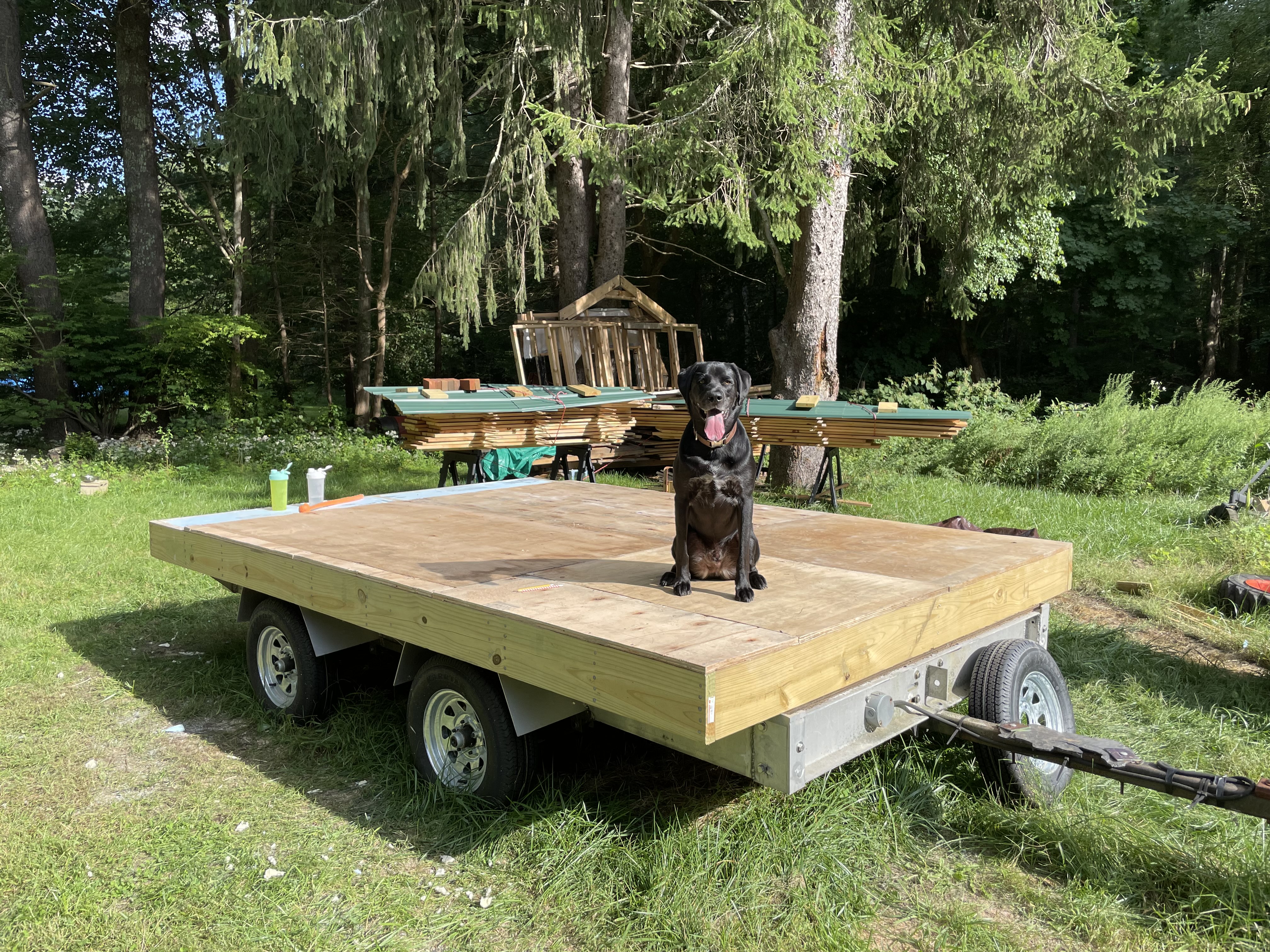 Once I install a couple floor drains, I'll be ready to start framing. (Update: Definitely not ready to start framing.)